Fragmentation and Discontinity in Postcolonial Edwidge Danticat's "The Dew Breaker"
Keywords:
Postcolonialism, Trauma, Transgression, Doubleness, Acceptance
Abstract
Postcolonial novel is a genre that deals with studies which have the greatest influence, particularly silence that is voiced into speech sounds and words, a silence elucidated through gender bodies that acquire resolutions, discoveries and thus, to women's liberations through means of not only voices of "self" but also communal that connect "persona" with past and future generations. The supporters of radical-libertarian feminism suggest that restricting women to behavior which is increased under feminine traits in itself
oppressive and that all women have shared oppression, therefore, becoming "sisters" believing that this oppression offers hope that the situation is temporary. Thus, it is better to bear in mind that those writings have no boundaries in both time and place while it is
about to gathering victims of the same influence in patriarchal societies. In literary contexts, transgression appears in different kinds of subaltern characters, the marginalized who are ready to negotiate the norms of society or a family by occupying a kind of divergent position from which new energies could be created. The power of language, too, plays an important role when it comes to characterize and define human experience.
Résumé :
Le roman postcolonial est un genre qui traite des études qui ont le plus d'influence, en particulier le silence exprimé en sons et mots de la parole, un silence élucidées à travers des organes de genre qui acquièrent des résolutions, des découvertes et ainsi, aux femmes libérations par le biais non seulement des voix du « soi » mais aussi des voix communautaires qui se connectent « persona » avec les générations passées et futures. Les partisans du féminisme radical-libertaire suggèrent que restreindre les femmes à un comportement qui est accru sous des traits féminins en soi oppressive et que toutes les femmes ont partagé l'oppression, devenant ainsi des "sœurs" croyant que cette oppression offre l'espoir que la situation est temporaire. Ainsi, il vaut mieux garder à l'esprit que ces écrits n'ont pas de frontières dans le temps et dans l'espace pendant qu'ils sont sur le point de rassembler les victimes de la même influence dans les sociétés patriarcales. En littérature contextes, la transgression apparaît dans différents types de personnages subalternes, les marginalisés qui sont prêts à négocier les normes d'une société ou d'une famille en occupant une sorte de position divergente à partir de laquelle de nouvelles énergies pourraient être créées. Le pouvoir du langage aussi joue un rôle important lorsqu'il s'agit de caractériser et de définir l'expérience humaine.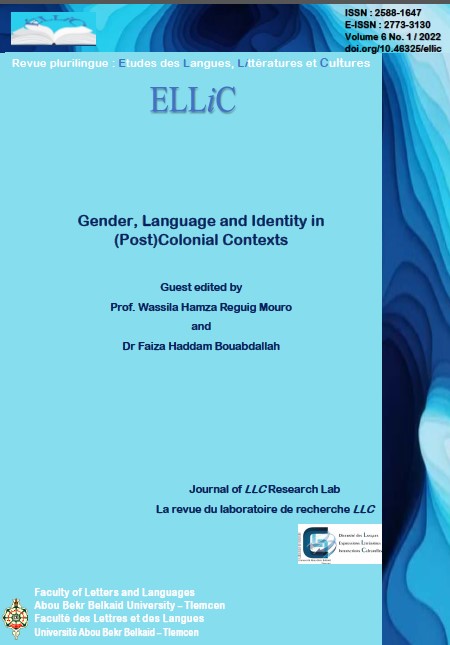 Downloads
How to Cite
LASRI, W. K. (2022). Fragmentation and Discontinity in Postcolonial Edwidge Danticat's "The Dew Breaker". Revue Plurilingue : Études Des Langues, Littératures Et Cultures, 6(1), 15–22. https://doi.org/10.46325/ellic.v6i1.77