Assia Djebar: 'L'Immortelle' of the Algerian French-Speaking Literature
Keywords:
colonial/post-colonial literature, francophone literature, women's lib
Abstract
The present article is a plea for a reconsideration of colonial and post-colonial Algerian French-speaking literature; not least Assia Djebar's literary works in pre- and post- independence Algeria. It attempts to redraw the boundaries of Djebbar's writings in relation to the status and role of the Algerian woman during and after French colonial rule. This two-fold issue actually represents the rationale of the movement for women's lib in Algeria. It also expands into a discussion of the discrepancies and disparities existing between men's rights and women's duties in light of a newly-emerging nation. This ambivalence, all too often called into question in Djebar's novels, imposes itself de facto in an Algerian deeply male-dominated society. Worth noting, her literary production did not go unnoticed in the Métropole and many French provinces and overseas territories, and subsequently she emerged as a powerful voice to be reckoned within French literature at large.
Résumé
Cet article est en fait un plaidoyer qui s'inscrit dans une perspective de reconsidération de la littérature algérienne d'expression française, et plus particulièrement les œuvres littéraires pré et postcoloniales d'Assia Djebar. Il essai de délimiter les écrits d'Assia Djebar par rapport au statut et rôle de la femme algérienne durant et après la colonisation. Cette question à double volets représente le fondement de l'émergence du mouvement relatif à l'émancipation de la femme en Algérie. L'article s'étale sur une discussion des différences et des disparités existantes entre les droits des hommes et les devoirs des femmes au sein d'une Algérie nouvelle et indépendante. Cette ambivalence, souvent remise en question dans les romans d'Assia Djebar, s'impose de facto dans une société algérienne à domination masculine. Notons aussi que la production littéraire de l'auteure a eu un écho significatif en Métropole, et dans plusieurs départements français et outre-mer. Ainsi, Assia Djebar émerge comme une voix puissante et reconnue au sein de la littérature française en général.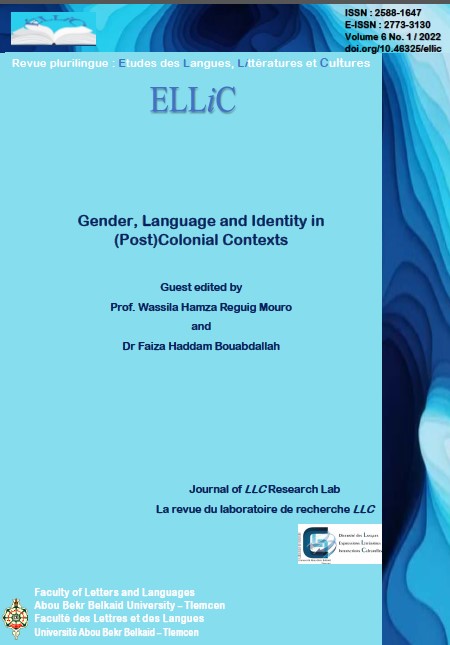 Downloads
How to Cite
BENMOUSSAT, N. D. . (2022). Assia Djebar: 'L'Immortelle' of the Algerian French-Speaking Literature. Revue Plurilingue : Études Des Langues, Littératures Et Cultures, 6(1), 47–54. https://doi.org/10.46325/ellic.v6i1.79