A Thematic Reading of C. Ama Ata Aidoo's "Certain Winds from the South"
Keywords:
South, struggle, Ama Ata Aidoo, coloniser, war
Abstract
Christina Ama Ata Aidoo's short story "Certain Winds from the South" deals with a community that is victim of both colonisation and World War II, as African nations witnessed both of them between the late eighteenth century and the mid twentieth century. This paper aims at shedding light on the varied themes that Aidoo dealt with in her short story. She focuses on the impact of the colonist and highlights a community that is dismantled in the period of post-war. Her characters struggle hard to survive and are obliged to take decisions that do not necessarily suit them.  Indeed, African nations do share this in common, as they have a common past of torture and destruction. Colonisation left these nations in a state of utter despair, and survival was not an easy task and is still not, even after 60 years of independence for some. The south in "Certain Winds from the South" stands both for hope and despair in this Ghanaian community.
Résumé :
La nouvelle de Christina Ama Ata Aidoo «Certain Winds from the South» traite d'une communauté victime à la fois de la colonisation et de la Seconde Guerre mondiale, dont les nations africaines en ont été victimes entre la fin du XVIIIe siècle et le milieu du XXe siècle. Cet article vise les différents thèmes traités par Aidoo dans sa nouvelle. Cette dernière cible l'impact du colon et met en lumière une communauté qui est démantelée dans la période d'après-guerre. Ses personnages peinent à survivre et sont obligés de prendre des décisions qui ne leur conviennent pas forcément. En effet, les nations africaines partagent cela en commun, car elles ont un passé commun de torture et de destruction. La colonisation a laissé ces nations dans un état de désespoir total, et la survie n'était pas une tâche facile et ne l'est toujours pas, même après 60 ans d'indépendance pour certains. Le sud dans «Certain Winds from the South» représente à la fois l'espoir et le désespoir dans cette communauté ghanéenne.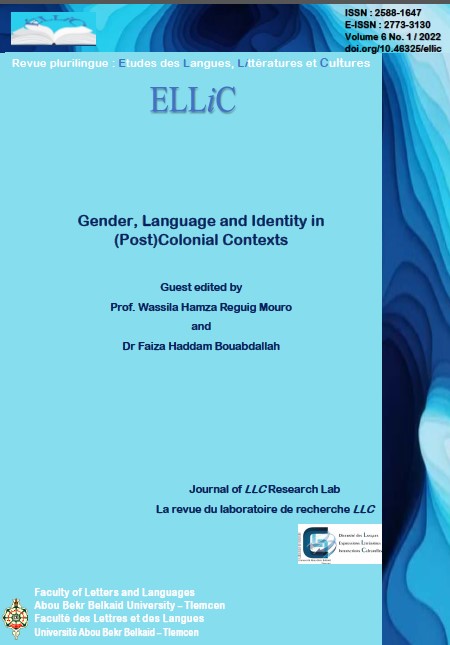 Downloads
How to Cite
Hamza Reguig Mouro, W. (2022). A Thematic Reading of C. Ama Ata Aidoo's "Certain Winds from the South". Revue Plurilingue : Études Des Langues, Littératures Et Cultures, 6(1), 23–28. https://doi.org/10.46325/ellic.v6i1.81