Jewish Community in Maghrebi Art (Music and Cinema)
Keywords:
Jewish community, Maghreb countries, Jewish maghrebi s, chaabi music, tunisian film, Un Eté à la Goulette
Abstract
The idea of a Jewish-Muslim community sounds odd in the twenty-first century while a few decades earlier it was an ordinary phenomenon in the Maghreb countries. The Jewish community who lived in North Africa before the conflict of the middle east yearns for a return to Maghreb countries which they consider as their home and part of their identity. This paper exposes the cohabitation of the two communities duing the colonial period. The reasons of the success of cohabitation are to be explored briefly with a small theoretical interpretation. Jews today are rejected in North African countries but history witnesses the existence of a Maghrebi Jewish community which is discussed in two cases in this research work, the first one is the case of Algerian Châabi music performed by Jewish artists, and Tunisian film Un Été a la Goulette, which shows three families from the three religions living together. Finally an analysis of the reasons is conducted to find out whether the reason of such cleavage is cultural or political. Throughout the analysis it is argued that this cohabitation broke the rules of sameness set by the colonizer in both countries. Problems between the two social groups arose after the naturalization of the Jews during the French colonization of Algeria then the invention of the country of Israel. The film depicts Tunisia as a melting pot of different cultures which manage to live together peacefully. The phenomenon is explained using the concept of the Carnivalesque by Russian philosopher Mikhail Bakhtin thus referring such harmony to the impact of segregation imposed by the colonizer. The analysis of whether the conflict is political or religious includes arguments by scholars like Benjamin Stora.
Résumé
L'idée d'une communauté judéo-musulmane semble étrange au XXIe siècle alors que quelques décennies plus tôt c'était un phénomène banal dans les pays du Maghreb. La communauté juive qui vivait en Afrique du Nord avant le conflit du Moyen-Orient aspire à un retour dans les pays du Maghreb qu'elle considère comme sa patrie et faisant partie de son identité. Cet article expose la cohabitation des deux communautés durant la période coloniale. Les raisons du succès de la cohabitation sont à explorer brièvement avec une petite interprétation théorique. Les Juifs sont aujourd'hui rejetés dans les pays d'Afrique du Nord mais l'histoire témoigne de l'existence d'une communauté juive maghrébine qui est abordée dans deux cas dans ce travail de recherche, le premier est le cas de la musique algérienne Châabi interprétée par des artistes juifs, et du film tunisien Un Été a la Goulette, qui montre trois familles des trois religions vivant ensemble. Enfin une analyse des raisons est menée pour savoir si la raison d'un tel clivage est culturelle ou politique. Tout au long de l'analyse, il est avancé que cette cohabitation a enfreint les règles d'uniformité établies par le colonisateur dans les deux pays. Des problèmes entre les deux groupes sociaux sont apparus après la naturalisation des Juifs lors de la colonisation française de l'Algérie puis de l'invention du pays d'Israël. Le film dépeint la Tunisie comme un creuset de cultures différentes qui parviennent à cohabiter sereinement. Le phénomène est expliqué à l'aide du concept du Carnivalesque par le philosophe russe Mikhaïl Bakhtine référant ainsi cette harmonie à l'impact de la ségrégation imposée par le colonisateur. L'analyse de savoir si le conflit est politique ou religieux comprend des arguments d'érudits comme Benjamin Stora.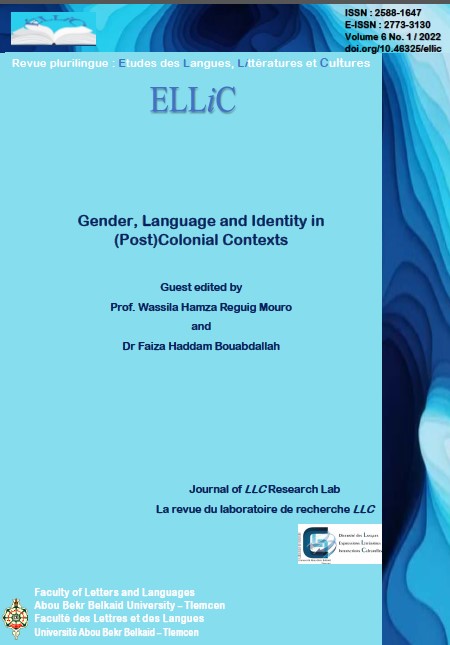 Downloads
How to Cite
Mengouchi, M. (2022). Jewish Community in Maghrebi Art (Music and Cinema). Revue Plurilingue : Études Des Langues, Littératures Et Cultures, 6(1), 109–117. https://doi.org/10.46325/ellic.v6i1.83