Le roman féminin de la post-indépendance La quête d'une écriture du (dé)voilement
Keywords:
female novel, post-independence, fiction, history, memory, testimony, roman féminin, post-indépendance, fiction, Histoire, mémoire, témoignage
Abstract
This article is devoted to the analysis of the relationship between fiction and History in the female novel of post-independence. In the text La femme sans sepulture by Assia Djebar, the voices of women living daily with commitment, the war of national liberation, fear and tragedy, recount and report, in a commemorative journey, the true story of heroine Zoulikha Oudai. But this time, the narrator (the author) becomes the "guest", "the visitor" or the "listener", who, melted into the chorus of tellers,  at times mixes her memories and participates in the work of reconstitution and of the rehabilitation of History, and at other times is silent to better listen to the confidences and testimonies of the women of Caesarea.
Résumé :
Ce présent article est consacré à l'analyse des rapports de la fiction et de l'Histoire dans le roman féminin de la post-indépendance.  Dans le texte La femme sans sépulture d'Assia Djebar, des voix de femmes vivant au quotidien l'engagement, la guerre de libération nationale, la peur et la tragédie, racontent et rapportent, dans un parcours remémoratif, l'histoire vraie de l'héroïne Zoulikha Oudai. Mais cette fois, la narratrice (l'auteure) devient "l'invitée", "la visiteuse" ou "l'écouteuse", qui, fondue dans le chœur des diseuses, tantôt mêle ses souvenirs et participe au travail de la reconstitution et de la réhabilitation de l'Histoire, tantôt se tait pour mieux écouter les confidences  et les témoignages des femmes de Césarée.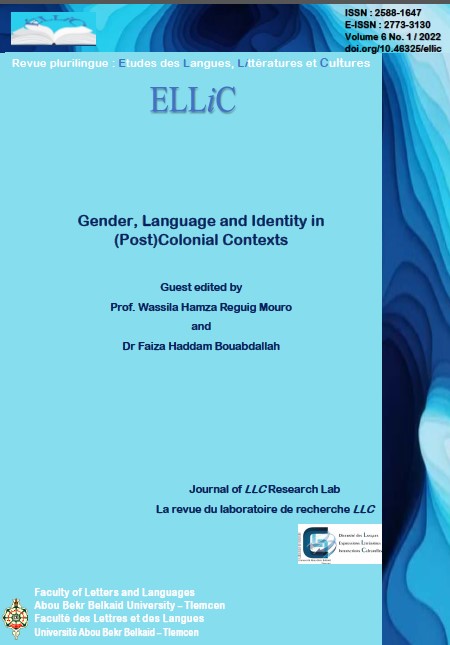 Downloads
How to Cite
SARI MOHAMMED, L. (2022). Le roman féminin de la post-indépendance La quête d'une écriture du (dé)voilement. Revue Plurilingue : Études Des Langues, Littératures Et Cultures, 6(1), 55–62. https://doi.org/10.46325/ellic.v6i1.69