Catégories et formes d'appropriation du français dans La carte d'identité
Keywords:
langue, français, appropriation, adaptation, enjeu
Abstract
Based on an anecdote where a white commander, Kakatika, asks a black prince, Mélédouman, for his identity card, the Ivorian novelist Adiaffi Jean-Marie, author of The Identity Card, traces the tragedy of Africa in search of its identity. This quest brings together, on the one hand, the commander with all those who defend French interests in Africa (Father Joseph of the Catholic Church, the commander's guard-floco, the teacher Adé, defender of the French language), and on the other, Mélédouman with all those who share local values ​​(the natives, the peasants, the craftsmen, the priestess Ablé). This opposition is constantly nourished by contradictory debates during which, depending on the quality of the speakers, the French language is domesticated and adapted to the needs of the subject. The purpose of this reflection is therefore to reveal the different manifestations of the appropriation of French as well as the issue that motivates them at each occurrence.
Résumé
A partir d'une anecdote où un commandant blanc, Kakatika, réclame à un prince noir, Mélédouman, sa carte d'identité, le romancier ivoirien Adiaffi Jean-Marie, auteur de La carte d'identité, trace la tragédie de l'Afrique à la recherche de son identité. Cette quête met aux prises, d'un côté, le commandant avec tous ceux qui défendent les intérêts français en Afrique (le Père Joseph de l'église catholique, le garde-floco du commandant, l'instituteur Adé, défenseur de la langue française), et de l'autre, Mélédouman avec tous ceux qui partagent les valeurs locales (les indigènes, les paysans, les artisans, la prêtresse Ablé). Cette opposition se nourrit constamment de débats contradictoires au cours desquels, selon la qualité des locuteurs, la langue française est domestiquée et adaptée au besoin du propos. Cette réflexion se fixe donc pour objet de révéler les différentes manifestations de l'appropriation du français ainsi que l'enjeu qui les motive à chaque occurrence.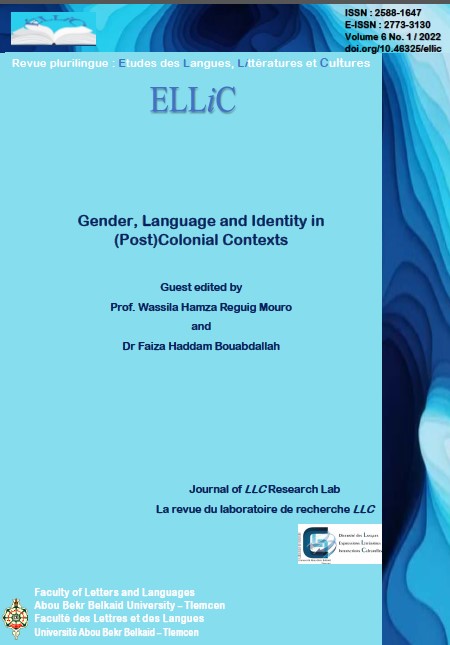 Downloads
How to Cite
Rabé, L. C. (2022). Catégories et formes d'appropriation du français dans La carte d'identité. Revue Plurilingue : Études Des Langues, Littératures Et Cultures, 6(1), 73–82. https://doi.org/10.46325/ellic.v6i1.73